What To Do If You're Involved In A Trucking Accident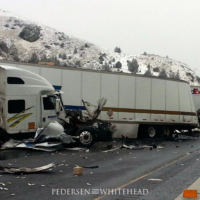 WHAT TO DO IF YOU'RE INVOLVED IN A TRUCKING ACCIDENT
By Jarom Whitehead
Large trucks, semis, and tractor-trailers can be extremely destructive, dangerous vehicles if driven without due regard for safety, or, worse, while intoxicated or dangerously tired. If you or someone you love has been injured in an Idaho truck accident, you may have high medical expenses and may have lost income from time spent off work tending to your own or your loved one's recovery. There are many reasons why these seemingly harmless slow-moving commercial vehicles are often involved in the most catastrophic accidents on the road.
WHY DO TRUCK ACCIDENTS CAUSE SO MUCH DAMAGE?
Idaho trucking collision cases, like commercial vehicles, can come in all sizes and shapes. With large cargo capacities, it's no wonder that trucks are the preferred method of freight transportation in the United States. Although trucks are a common method of transportation, commercial vehicles are a force to be reckoned with on the roadway.
Trucks are typically large, heavy, and sometimes carry hazardous material—making them a unique hazard on any Idaho roadway. We have found that trucking accidents can be devastating and often have a profound effect on Idahoans.  They often involve more than one vehicle, cause catastrophic injury, and sometimes even death. Trucking accidents are therefore very different than standard motor vehicle accidents.
WHAT SHOULD I DO IF I AM INVOLVED IN AN IDAHO TRUCK COLLISION?
We have spent decades representing Idaho trucking accident victims. If you have been involved in a trucking accident in Idaho, it is vital you get an attorney that has experience in the area. Our goal at Pedersen Whitehead & Hanby is to help you and your loved ones get the fair compensation they deserve. We successfully helped families and individuals injured in trucking accidents all over Idaho. We can help you understand the complexities involved with a free consultation.
If you or a loved one have been injured in a serious truck accident in Idaho, ensure that you receive the compensation you deserve. Contact the professional and compassionate truck accident attorneys at Pedersen Whitehead & Hanby, with offices conveniently located in Twin Falls (208-734-2552) and Boise (208-336-2552).