Rollover Accidents Lawyer in Boise & Twin Falls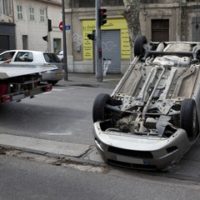 Rollover accidents can be some of the most terrifying forms of collision on Idaho roads, and they can also be some of the most deadly. The National Highway Traffic Safety Administration has found that, while rollover collisions account for only about 3% of all accidents, they are responsible for approximately 33% of all motor vehicle fatalities. Those who survive rollover crashes are often saddled with serious injuries and lifelong physical limitations, not to mention the overwhelming costs of being injured in a rollover accident.
You may be owed money after an Idaho rollover crash
Victims of rollover accidents may be entitled to compensation for their injuries or for those of their loved ones through a claim for damages or personal injury lawsuit. If you've been hurt in an Idaho rollover crash, it's important to take action on your claim as soon as possible to ensure that you do not lose the opportunity to get the compensation you deserve. After a rollover crash, contact a seasoned, professional, and trial-ready Boise rollover accidents lawyer at Pedersen Whitehead & Hanby for a no-cost consultation on your rollover claim.
Poor roadway maintenance can result in rollover accidents
Rollover accidents are frequently caused by so-called "trips" in the road. A vehicle is tripped when it is knocked off-balance, causing some of the vehicles' tires to lose contact with the roadway. When trips happen at a sufficient speed and the driver is unable to regain control of the vehicle, rollovers can happen.
Objects in the roadway, curbs, guardrails, or bad potholes can all become trips under certain circumstances, as can loose gravel from an unfinished construction site or project. When vehicles rollover because of poor roadway maintenance or a failure to warn of roadside construction, counties or those responsible for road maintenance may be liable to the victims of those rollover crashes. Pedersen Whitehead & Hanby's knowledgeable attorneys are experienced in pursuing claims against negligent government bodies responsible for causing an accident victim's injuries. Contact their Boise or Twin Falls law offices as soon as possible if you believe you may have a claim against the government or a negligent driver who caused your crash.
Rollover accidents are some of the most dangerous for victims
Rollover crashes hold high potential for major injuries among victims, including:
Bone fractures

Soft tissue and ligament damage

Neck and spinal damage

Traumatic brain injury (TBI), such as concussions

Wrongful death
Dedicated Idaho Car Accident Attorneys in Boise and Twin Falls
If you or someone you love has been injured in a rollover crash in Idaho, get a no-cost evaluation of your claims by contacting a dedicated and effective Twin Falls rollover accidents lawyer at Pedersen Whitehead & Hanby for a consultation at 208-734-2552, or in Boise at 208-336-2552.