How Are Idaho Trucking Accidents Different Than Car Accidents?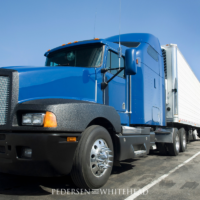 HOW ARE IDAHO TRUCKING ACCIDENTS DIFFERENT THAN CAR ACCIDENTS?
By Michael J. Hanby
Trucking accidents in Idaho are much more than just car accidents with bigger vehicles. We have represented victims of truck accidents in Boise, Twin Falls, and Eastern Idaho. Our experience has taught us that Idaho trucking accidents require a specialized approach. Here are some areas of the law that we find especially important in helping injured Idahoans fair compensation.
WHAT ARE THE DUTIES OF COMMERCIAL TRUCK DRIVERS AND OPERATORS?
Just like trucks are not cars, truck drivers are not just drivers. The law requires commercial truck operators to have specialized knowledge, skill, and training above and beyond what is required of a standard driver. For example, Idaho truck drivers are required to obtain a commercial driver's license (CDL). Whether a CDL in Idaho is required depends on the type of commercial vehicle, and commercial trucks can vary widely in size, weight, length, and cargo.
The truck industry in Idaho often adds another layer of complexity. For instance, the duties owed by truck drivers can extend to the trucking company, trucking broker, or dispatcher.  Determining who caused a collision on the roadway often goes beyond just the truck driver sitting behind the wheel.  As experienced trucking accident lawyers, we will get to the bottom of issues like this which can make all the difference in getting fair compensation.
WHAT ARE YOU UP AGAINST IN A TRUCKING LAWSUIT?
Lawsuits involving trucking companies can be complex and involve a number of well-armed corporate defendants. It takes considerable time and money to collect the evidence necessary to get an injured person the compensation they deserve. Instead of attempting to get the money you need by going up against these companies on your own, enlist the help of experienced truck accident attorneys to fight the battle on your behalf, so that you can focus on the more important task of getting better.
WHAT ARE THE COMMERCIAL TRUCKING STANDARDS IN IDAHO?
Many of the requirements applicable to trucks in Idaho also apply nationally. There are Federal safety standards that trucks are responsible for meeting. For example, the Federal Motor Carrier Safety Administration(FMCSA) regulates the trucking industry throughout the United States and trucks traveling through Idaho must meet these standards.
In conjunction with the FMCSA regulations, trucking industry standards are often an element that plays into trucking collisions. For instance, a trucking company might require certain procedures and policies for their drivers and operators. And if a trucker was not properly trained on these policies or regulations, liability might attach. It is also a required standard that drivers get enough rest to operate the truck. Fatigue or sleep-deprivation can have big problems for long-haul drivers and can result in catastrophic trucking collisions.
Finally,  another standard applicable to trucks operating in Idaho is the "driver vehicle inspection report" set forth in Code of Federal Regulations § 396.11. The rule requires truck drivers to prepare a "pre-trip" report in writing. These lists include a thorough evaluation of the braking system, steering, lighting, tires, coupling devices, and emergency equipment (just to name a few). Keeping all of these standards in mind is essential for an attorney approaching a truck accident in Idaho.
We can explain these and other standards that might apply to your case in a free consultation.
You can reach Michael J. Hanby by calling the Boise office at 208-336-2552 or the Twin Falls office at 208-734-2552.