Pedersen Whitehead & Hanby Partake in "Stand Against Hunger Project"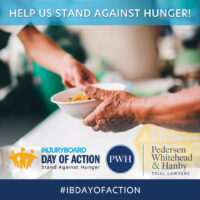 (TWIN FALLS, ID) — Many of the 53 million people who relied on food banks in the United States in 2021 never thought they would need to rely on food banks. But COVID-19 changed everything, and now a troubled economy and war in Ukraine are making food insecurity the new normal for millions in the United States.
Pedersen Whitehead & Hanby is working to fight food insecurity. The firm to donate food and other items to our local food bank. We have been collecting donations and will deliver those to Valley House on Thursday, November 10, 2022. Through these efforts, Valley House will be putting the donations on the dinner table for those who need them here in the Magic Valley.
"Our firm is committed to doing what we can to ensure that no family in our community is without food this holiday season," said Attorney Michael J. Hanby II. "We encourage everyone to do what they can to stand against hunger."
The "Stand Against Hunger Project" is part of a national outreach event known as the Injury Board Day of Action — a collaborative effort by the nation's leading plaintiff's attorneys to make a difference in their local communities.
"Our members are the best of the best, not because they are successful attorneys, but because of their passion for helping out in any way they can," said Attorney and Injury Board Founder Tom Young," Giving back is at the heart of Injury Board and we are so excited about the amount of meals that we and our clients were able to provide through this campaign."
For more information, or to help donate, contact reception@pedersen-law.com.
About Injury Board
The Injury Board is a professional association of trial attorneys who pool their time, talents and resources to expand the footprint of grassroots organizations. In doing so, the association aims to contribute to the strengthening of our communities. For more information, please visit injuryboard.org.
About Pedersen Whitehead & Hanby
With over 50 years of combined experience, the dedicated attorneys at Pedersen Whitehead & Hanby have successfully represented thousands of clients in helping them recover tens of millions of dollars from serious personal injuries. Through our meticulous case preparation and close, individual work with each of our clients, we offer the finest quality legal representation to help you achieve the best recovery possible for your case.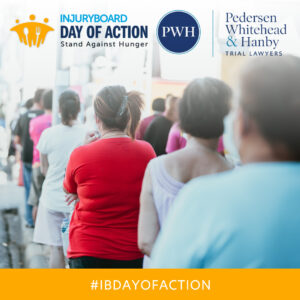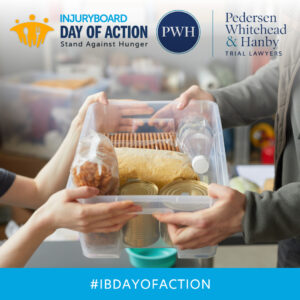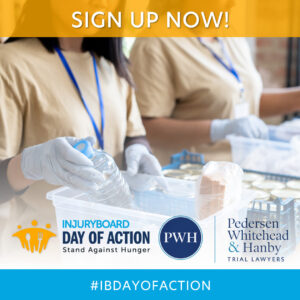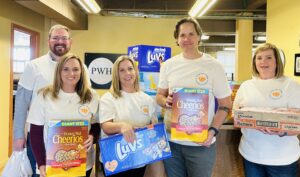 We Donated to Valley House