Investigation Finds Banned Doctors Continue to Practice In Other States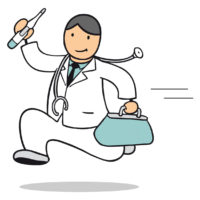 Patients have a right to expect that the physicians they select to provide care or perform a surgery are licensed and capable of safely doing their jobs. A recent investigation has revealed that many physicians who faced allegations of malpractice in one state have nevertheless gone on to practice medicine in other states, without any legal or professional consequences. Some of these banned doctors and physicians then end up injuring patients in these other states they practice in. Read on to learn about these cases, and contact an Idaho medical malpractice attorney if you've been harmed by a physician.
Banned Doctors with Multiple Licenses May Sacrifice One While They Practice with Other
In the US, doctors must apply for medical licenses in each state in which they wish to practice medicine; there is no national license to practice. As a result, each state has independent control over the validity of a doctor's medical license, and discipline in one state only rarely affects that doctor's license in other states. Doctors who face very serious charges of malpractice or professional misconduct, or who have been accused of malpractice on multiple occasions, may choose to sacrifice their state medical license. The physician may want to avoid the expense and publicity associated with formal hearings, or they might have their record sealed in exchange for surrendering their license.
No Discipline for Dangerous Doctors in Different States, Even While Criminal Charges Pending
According to the recent investigation, over 250 physicians who surrendered their license in one state moved on to practice in a new state. A third of these doctors faced no repercussions or limits when moving to the new state, and the remaining doctors experienced some disciplinary action, but not always of a type that the average patient would learn about. This lack of information or consequences for a surrendered license can have dangerous implications for patients.
In one case, a Wisconsin heart surgeon performed only seven surgeries with a hospital, and two of his patients died. This surgeon, while facing medical malpractice lawsuits for those two deaths, returned to New York to practice medicine, as he already had a license to practice in that state. A cardiologist who faced criminal charges for having sexual contact with female patients in an exam room surrendered his medical license in New Jersey, where the charges were pending. He was also licensed in California, but he was forced to surrender that license when California's medical board learned of the charges. That said, despite an ongoing criminal case for misconduct on the job, the doctor was able to continue practicing in New York. One physician who badly botched multiple surgeries for a patient in California went on to harm patients in Louisiana and New York before relocating to Ohio, where he had a medical license but no record of discipline.
Since there is no database to which all states are required to contribute records of physician misconduct and discipline, and states may seal records of discipline in some cases, there are few reliable ways to find out whether your doctor has surrendered his license in another state. Patients should check with the medical board in their own state and, if they have reason to know that their doctor has practiced elsewhere, they can also check with that state's medical board. Evidence that a doctor was known to have injured patients in the past could provide support for a claim for damages against a hospital that nevertheless allowed the doctor to practice medicine there.
If you've been hurt by a dangerous doctor or defective medical device in Idaho, get help seeking the damages you're owed by contacting the seasoned and knowledgeable Twin Falls medical malpractice attorneys at Pedersen Whitehead & Hanby for a free consultation at 208-734-2552, or in Boise at 208-336-2552.